Leadership Team
Our Leadership Team
Liron Taub, Chair
Liron Taub is a lawyer for the Government of Ontario. Liron was born in Toronto and as a child was raised in a grassroots liberal Jewish community in the west end. Liron joined City Shul five years ago and he serves as a gabbai and occasional service lay leader. He is also a member of the Varsity Jews, a Toronto Jewish music a cappella choir.
Liron believes that liberal Judaism is not "Judaism lite" but rather demands genuine active, critical and creative engagement with Jewish text, practice and ethics.
Anne Sealey, Vice-Chair
Anne grew up in and around Toronto, with a brief foray in Ohio, where she solidified her love of Judaism and buckeyes. Anne and her family have been members of City Shul since 2012 (or in one case, since birth). Anne was one of the first head ushers for the Shul, which was a hands-on effort in community building and audacious hospitality. After "retiring" from being a head usher after the birth of her daughter, she is excited to contribute to the City Shul community in a new way and to help grow and solidify our inclusive, vibrant community.
On Saturdays, Anne can often be found in the prayground or being assisted in reading Torah by her daughter Naomi. On non-Saturdays, she works for the provincial government and can often be found in playgrounds or reading books.

Barbara Wade Rose, President
Barbara Wade Rose is the child of an army family and has lived throughout Canada and in Britain. She and her family, Jonathan, Jessica and Hannah, now reside in Toronto. Barbara has been a Judeophile since she was twelve years old, and became a member of tribe in May, 1982. She has worked both as a journalist and author but her greatest privilege was serving as an interviewer for the Survivors of the Shoah Foundation in Toronto and northern California, recording testimonies of Holocaust survivors.
She hopes to help City Shul maintain its beautiful balance of growth and gemutlich in coming years.

Rob McCready, Treasurer
Rob grew up in small-town Ontario an hour north of Toronto. He earned a BASc in Computer Engineering from the University of Waterloo, followed by an MASc from U of T. Since then he has worked as a software developer and consultant in the industrial machine vision industry. Outside of work, Rob has been active in parent advisory committees at his kids' schools, including three years as Chair.
Rob converted to Judaism through Rabbi Goldstein (then at Kolel) in 2001 before marrying his partner Carly Ziniuk and starting on the journey of raising two boys together. After going to Kolel classes and high holiday services for over a decade, Rob and Carly jumped at the chance to join the City Shul experiment. Rob has served as a Gabbai for several years in addition to helping with IT and joining a committee or two from time to time. Most recently he has upgraded to taking on the role of Treasurer.

Carly Ziniuk, Secretary
A teacher for over 25 years, Carly is "well-known" by the pet name her students have given her: "Zin". Her true love is talking to kids about Math. Carly is heavily involved in Math education, presenting at conferences around the world. She has created materials for TVOntario and the National Gallery in Ottawa, and writes a regular column for The Gazette. In 2016, she was awarded the Descartes Medal for Excellence in Mathematics Education.
She has additional qualifications in Public Health, Positive Psychology, and Mental Health First Aid. Asher and Noam assert that their Ima spends most of her volunteering hours also talking and planning about school. When her kids were little, she was on the board of their co-operative preschool and then joined the Hillel Children's Workshop, a parent-run Jewish supplementary program as Principal and Coordinator.
She believes strongly in the importance of parental involvement in Jewish learning. Carly has been Chair of City Shul's Education Committee for the past four years. Carly loved her classes with Kolel and brought Rob (now Gabbai-extraordinaire) along into the tribe first as a learner. Ask Rabbi Goldstein about their wedding at the Ontario Science Centre! Their family loves to plan, challenge, and especially learn about how to improve the world within a Jewish framework.

Shelley Albert
Shelley is an internist and nephrologist at North York General Hospital and Sunnybrook Health Sciences Centre. She and her partner Cindy Grief have been members of City Shul from the beginning after a decade or so of Shul-shopping. It is definitely the place they were always looking for. Their son Seth had his Bar Mitzvah 2 years ago and daughter Faye's Bat Mitzvah is on the horizon.
Shelley grew up as a "youth grouper" in the Toronto Reform community, was previously a leader at the Downtown Reform Minyan back in the 90's. She did some cool Kolel courses in the aughts and has been active at City Shul as a Torah reader, a member of the Shira Harmony Group and the Siddur Task Force. She is honoured to help City Shul grapple with the challenges we're facing in the coming years.

Jon Arnold
Jon has been active with City Shul for several years, and going back to Kolel times, has been in Rabbi Goldstein's orbit for much longer. Raised Reform in Boston area, he has stayed on that track since moving to Toronto with his family at age 11. Toronto remains Jon's home, where his two adult sons, Maxwell and Dean, still live with him. Sara Belmont is Jon's long-time partner, and both have been active with City Shul since joining together. Jon's primary involvement has been leading with adult education program for the past three years, where he draws on his love of culture to enrich our membership with programming that appeals to the cultural side of Judaism.
By day, Jon is an independent technology analyst, where he is widely-published and speaks regularly about trends in communications technology and how they impact the workplace. His practice has been running since 2005, and holding an MBA from York (now Schulich), is well grounded in the realities of being self-employed. By night, Jon is avidly interested in playing music, loves cooking, art, literature and cinema, and is a fitness fanatic. Within the music community, Jon has been a long-standing Board member of the Toronto Blues Society, and has been with them since inception back in 1985.

Allen Braude
Allen joined City Shul in 2018, after seeking a progressive Jewish home following the tragic shooting at the Tree of Life synagogue in Pittsburgh. Allen is the grandchild of Holocaust survivors and was raised in Toronto by parents who emigrated from Israel. He spent a decade in Vancouver, during which time he received a degree in film studies from Simon Fraser University. He returned to Toronto at the beginning of the new millennium and has been involved with a variety of film festivals, including being a member of the programming team at the Toronto Jewish Film Festival for the past 15 years.
Allen currently works as the Senior Communications Manager at a leading Canadian environmental organization. City Shul members may recognize Allen as a 'Zabbi' during online services and as a tech manager of various events. He also brings to City Shul his communications skills, his love of the arts and his passion for social justice.
Allen is an avid runner and can be found from time to time in Pittsburgh, where his partner Ken is a university professor.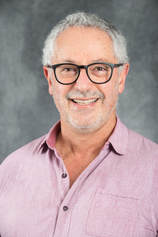 Daniel Gruner
Danny was born and raised in Mexico City. Went to university all over the place, starting in Mexico, and then Technion and Hebrew University in Israel. After meeting Simy and getting married, they arrived in Toronto for graduate school, at U of T, where Danny earned a PhD in Chemical Physics. Daniel Gruner is CTO for the SciNet High Performance Computing Consortium at the University of Toronto. SciNet runs the largest academic computer systems in Canada. Danny has more than thirty years' experience in computational science and scientific computing. Computation is now pervasive, affecting and helping all fields of research and human endeavour. Thus being in the middle of it, teaching researchers and enabling their work, is tremendously important. This is what we do every day at work.
City Shul has become, since its inception, one of the centres of our lives, one of our homes. Being on the Leadership Team is one contribution to helping City Shul grow, and remain central to the lives of our community.
Amy Madras
Amy grew up in Toronto as an avid reader, got a degree in Linguistics, and then turned to accounting as a more employable skill. She currently works as an accountant for a not-for-profit organization. Amy has been attending City Shul since 2018. She has volunteered as a Shul Buddy and on the Finance Committee. During our time as "City Shul in the Cloud", Amy was part of the security and tech teams. Amy has made excellent friends here, and hopes City Shul will continue being a home for friendly community and for the ruach they bring to davening.
Alia Rosenstock
As an immigration lawyer, Alia facilitates work permits for foreign nationals in a variety of industries, ranging from finance, information, technology, manufacturing, transportation and natural resources.
Prior to her current role, Alia had her own law practice, Rosenstock Law Firm PC, in Toronto, Ontario. She was a member of the Legal Aid Ontario Refugee and Domestic Violence panels and represented clients through all forms of immigration and refugee applications and proceedings. She specialized in complex cases and regularly appeared before all levels of the Immigration and Refugee Board and the Federal Court.
Alia speaks English and French and has a professional working knowledge of Spanish and basic Hebrew. Before returning to private practice in 2017, Alia was the Director, Opera Division for Dean Artists Management and In-House Counsel for Dean Artists Management and Talent House, Inc., in Toronto, Canada. Alia received her Juris Doctor degree from Dalhousie University (2009) and was a merit scholarship student at the New England Conservatory of Music where she received her Bachelor of Music in Classical Voice (2003). She has a certificate in Entertainment Law from York University (2015).
Alia has had the priviledge of sitting on several boards and committees, most recently the Canadian Opera Company's Vox program committee, welcoming music lovers and professionals under 40, the Ontario Bar Association, Law Practice Management Executive Committee, and the Refugee Lawyers Association Executive Board. She was a 3 time Chair of Opera Canada Magazine's annual Ruby Awards fundraising committee and and a member of the board from 2011-2019.
Outside of work, Alia is a member of the City Shul Refugee Task Force, City Shul Shira Group, and most recently, the klezmer band, Freileche Klezmer. She is committed to the practice of meditation and has a certificate in meditation instruction. She loves to cook and get out on the water whenever possible.
Wed, November 29 2023
16 Kislev 5784
City Shul Shabbat Services
Click here for our Shabbat service schedule.
City Shul School
Click here to learn more about our shul's school.
City Shul Family Learning
Click here to see our upcoming family programmes.
City Shul Adult Ed and Adult Programmes
Click here to see our upcoming adult programmes.

Upcoming Events
All Events
Wednesday

,

Nov

November

29

,

2023

Israel Engagement presents "Confusion and Conversation"


Wednesday, Nov 29th

7:30p

to

9:00p




Things in Israel are changing rapidly. So are our own questions and feelings as Diaspora Jews. This evening is to explore "the situation" and to grapple with our personal and communal relationship with Israel with your Rabbi and our member Jon Allen, former Canadian ambassador to Israel.

Sunday

,

Dec

December

10

,

2023

City Shul Chanukah Party


Sunday, Dec 10th

4:00p

to

6:00p




All ages welcome: Family and toddler activities, adult learning, latkes and donuts, music, candle lighting, AND Simchat Torah in December!

In Seven Days, Sunday May 5, 2024, 7 PM; Talkback with Rabbi Goldstein for this performance only


Sunday, May 5th

7:00p

to

9:00p




Through tears and laughter, In Seven Days explores what it means to live with grace and grapples with how we say goodbye to the people we love most. Rabbi Elyse Goldstein will lead a talkback presentation at the conclusion of the play.
Wed, November 29 2023 16 Kislev 5784