Leadership Team
Our Leadership Team

Danielle Keystone-Adler, Chair
Called to the Bar in 2002, Danielle is a non-practicing lawyer with extensive professional experience in the not-for-profit sector. In 2007, after several years working in cancer charities, Danielle decided to stay home and raise her children (Lylah, now 16 and Brandon 15). In 2014, Danielle became Board President at Paul Penna Downtown Jewish Day School (PPDJDS) where her children were enrolled. In her time as President, the school successfully completed a two-year accreditation process, raised nearly 1M dollars, and hired the current (outstanding) Head of School and Principal. And yet, her proudest achievement is her leadership in overhauling the governance of the Board, proving that to make an organization excellent you have to have excellent Board practice, policy and procedure.
Danielle and her family have been members of the shul since its inception and they continue to be active. Danielle is currently serving her second two-year term on the City Shul Leadership Team (Board), third year as Chair. Her husband, Amos Adler, was a founding member of the shul LT, their daughter chants Torah every year at Yom Kippur, and their son is currently volunteering with City Shul School.
In addition to her work with the shul, Danielle has several other Board and Board-related commitments including serving on the Board of Access Education Guatemala Children's Fund; co-chair of the PPDJDS Life and Legacy Committee; and member of the Hillel Ontario Governance Committee. In June 2018 Danielle received a community volunteer award from UJA.

Barbara Wade Rose, President
Barbara Wade Rose is the child of an army family and has lived throughout Canada and in Britain. She and her family, Jonathan, Jessica and Hannah, now reside in Toronto. Barbara has been a Judeophile since she was twelve years old, and became a member of tribe in May, 1982. She has worked both as a journalist and author but her greatest privilege was serving as an interviewer for the Survivors of the Shoah Foundation in Toronto and northern California, recording testimonies of Holocaust survivors.
She hopes to help City Shul maintain its beautiful balance of growth and gemutlich in coming years.

Liron Taub, Vice President
Liron Taub is a lawyer for the Government of Ontario. Liron was born in Toronto and as a child was raised in a grassroots liberal Jewish community in the west end. Liron joined City Shul five years ago and he serves as a gabbai and occasional service lay leader. He is also a member of the Varsity Jews, a Toronto Jewish music a cappella choir.
Liron believes that liberal Judaism is not "Judaism lite" but rather demands genuine active, critical and creative engagement with Jewish text, practice and ethics.

Rob McCready, Treasurer
Rob grew up in small-town Ontario an hour north of Toronto. He earned a BASc in Computer Engineering from the University of Waterloo, followed by an MASc from U of T. Since then he has worked as a software developer and consultant in the industrial machine vision industry. Outside of work, Rob has been active in parent advisory committees at his kids' schools, including three years as Chair.
Rob converted to Judaism through Rabbi Goldstein (then at Kolel) in 2001 before marrying his partner Carly Ziniuk and starting on the journey of raising two boys together. After going to Kolel classes and high holiday services for over a decade, Rob and Carly jumped at the chance to join the City Shul experiment. Rob has served as a Gabbai for several years in addition to helping with IT and joining a committee or two from time to time. Most recently he has upgraded to taking on the role of Treasurer.

Carly Ziniuk, Secretary
A teacher for over 25 years, Carly is "well-known" by the pet name her students have given her: "Zin". Her true love is talking to kids about Math. Carly is heavily involved in Math education, presenting at conferences around the world. She has created materials for TVOntario and the National Gallery in Ottawa, and writes a regular column for The Gazette. In 2016, she was awarded the Descartes Medal for Excellence in Mathematics Education. She has additional qualifications in Public Health, Positive Psychology, and Mental Health First Aid. Asher and Noam assert that their Ima spends most of her volunteering hours also talking and planning about school. When her kids were little, she was on the board of their co-operative preschool and then joined the Hillel Children's Workshop, a parent-run Jewish supplementary program as Principal and Coordinator. She believes strongly in the importance of parental involvement in Jewish learning. Carly has been Chair of City Shul's Education Committee for the past four years. Carly loved her classes with Kolel and brought Rob (now Gabbai-extraordinaire) along into the tribe first as a learner. Ask Rabbi Goldstein about their wedding at the Ontario Science Centre! Their family loves to plan, challenge, and especially learn about how to improve the world within a Jewish framework.

Shelley Albert
Shelley is an internist and nephrologist at North York General Hospital and Sunnybrook Health Sciences Centre. She and her partner Cindy Grief have been members of City Shul from the beginning after a decade or so of Shul-shopping. It is definitely the place they were always looking for. Their son Seth had his Bar Mitzvah 2 years ago and daughter Faye's Bat Mitzvah is on the horizon.
Shelley grew up as a "youth grouper" in the Toronto Reform community, was previously a leader at the Downtown Reform Minyan back in the 90's. She did some cool Kolel courses in the aughts and has been active at City Shul as a Torah reader, a member of the Shira Harmony Group and the Siddur Task Force. She is honoured to help City Shul grapple with the challenges we're facing in the coming years.

Debbi Arnold
Debbi was born in Cape Town, South Africa and is part of the Placement and Employer Relations team for the Master of Management and Professional Accounting (MMPA) program at University of Toronto Mississauga. She received a Bachelor of Commerce Degree, specializing in Business Management and Industrial Psychology from the University of South Africa (she gained it by working full time and studying part-time) literally weeks before immigrating to Canada with her husband David Arnold in 1998. Before that she earned a National Diploma in Marketing from the Cape Peninsula University of Technology.
Over the years, Debbi has accumulated a variety of experiences, from working in marketing in the corporate world to teaching business at George Brown Collage and Humber College to running her own marketing and coaching practice. She has also collected a number of certifications, including certificates in One-on-One Coaching (Coach-U), Freelance Writing (University of Toronto) and Interior Design (New York Institute of Ari & Design). She even completed an improv Level 1 course at Second City which confirmed that she should never embark on a career in improv!

Debbie looks forward to positively contributing to City Shul and enhancing the downtown community in the same way that City Shul has enhanced her own community. Debbi and David have two teenaged daughters and a cat, who seems to have far more power in the household than anyone else!

Jon Arnold
Jon has been active with City Shul for several years, and going back to Kolel times, has been in Rabbi Goldstein's orbit for much longer. Raised Reform in Boston area, he has stayed on that track since moving to Toronto with his family at age 11. Toronto remains Jon's home, where his two adult sons, Maxwell and Dean, still live with him. Sara Belmont is Jon's long-time partner, and both have been active with City Shul since joining together. Jon's primary involvement has been leading with adult education program for the past three years, where he draws on his love of culture to enrich our membership with programming that appeals to the cultural side of Judaism.
By day, Jon is an independent technology analyst, where he is widely-published and speaks regularly about trends in communications technology and how they impact the workplace. His practice has been running since 2005, and holding an MBA from York (now Schulich), is well grounded in the realities of being self-employed. By night, Jon is avidly interested in playing music, loves cooking, art, literature and cinema, and is a fitness fanatic. Within the music community, Jon has been a long-standing Board member of the Toronto Blues Society, and has been with them since inception back in 1985.

Allen Braude
Allen joined City Shul in 2018, after seeking a progressive Jewish home following the tragic shooting at the Tree of Life synagogue in Pittsburgh. Allen is the grandchild of Holocaust survivors and was raised in Toronto by parents who emigrated from Israel. He spent a decade in Vancouver, during which time he received a degree in film studies from Simon Fraser University. He returned to Toronto at the beginning of the new millennium and has been involved with a variety of film festivals, including being a member of the programming team at the Toronto Jewish Film Festival for the past 15 years.
Allen currently works as the Senior Communications Manager at a leading Canadian environmental organization. City Shul members may recognize Allen as a 'Zabbi' during online services and as a tech manager of various events. He also brings to City Shul his communications skills, his love of the arts and his passion for social justice.
Allen is an avid runner and can be found from time to time in Pittsburgh, where his partner Ken is a university professor.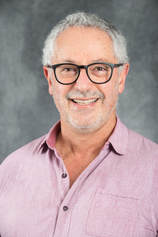 Daniel Gruner
Danny was born and raised in Mexico City. Went to university all over the place, starting in Mexico, and then Technion and Hebrew University in Israel. After meeting Simy and getting married, they arrived in Toronto for graduate school, at U of T, where Danny earned a PhD in Chemical Physics. Daniel Gruner is CTO for the SciNet High Performance Computing Consortium at the University of Toronto. SciNet runs the largest academic computer systems in Canada. Danny has more than thirty years' experience in computational science and scientific computing. Computation is now pervasive, affecting and helping all fields of research and human endeavour. Thus being in the middle of it, teaching researchers and enabling their work, is tremendously important. This is what we do every day at work.
City Shul has become, since its inception, one of the centres of our lives, one of our homes. Being on the Leadership Team is one contribution to helping City Shul grow, and remain central to the lives of our community.

Karen Lewis
Karen grew up in a huge Reform congregation in Detroit. Her family were "twice-a-year" and holiday Jews. She always loved lighting Shabbat candles with her grandmother while either in Toronto or Muskoka. She was confirmed in ninth grade and her family switched to another temple which was not welcoming to a "newcomer".
Fast forward many years, Karen moved to Toronto, and had the amazing luck to meet Rabbi Goldstein and really become involved in "Jewish stuff". She sat on the Board of Kolel: An Adult Jewish Learning Centre, for many years, and was a very active student and volunteer. With the birth of City Shul, Karen slowly became involved, and soon understood that this was the place to be.
She loves our community, our spirit, and our mission. She is grateful to be a part of our current plans and activities, as well as our future goals and growth.

Anne Sealey
Anne grew up in and around Toronto, with a brief foray in Ohio, where she solidified her love of Judaism and buckeyes. Anne and her family have been members of City Shul since 2012 (or in one case, since birth). Anne was one of the first head ushers for the Shul, which was a hands-on effort in community building and audacious hospitality. After "retiring" from being a head usher after the birth of her daughter, she is excited to contribute to the City Shul community in a new way and to help grow and solidify our inclusive, vibrant community.
On Saturdays, Anne can often be found in the prayground or being assisted in reading Torah by her daughter Naomi. On non-Saturdays, she works for the provincial government and can often be found in playgrounds or reading books.
Sat, October 1 2022
6 Tishrei 5783
City Shul Shabbat Services
Click here for our Shabbat service schedule.
City Shul School
Click here to learn more about our shul's school.
City Shul Family Learning
Click here to see our upcoming family programmes.
City Shul Adult Ed and Adult Programmes
Click here to see our upcoming adult programmes.

Sat, October 1 2022 6 Tishrei 5783