Sukkot-Simchat Torah
Sukkot and Simchat Torah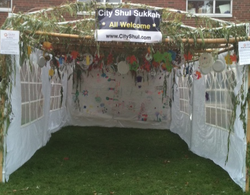 WHAT IS IT?

The Feast of Booths and the Festival of Rejoicing in the Torah
Sukkot=booths
Simchat Torah=Joy of the Torah

Pronounced in Hebrew "Sookot" with a long o in "kot" and the accent on "kot"; and "Seem-chat To- rah" with the accent on "chat" and "rah." (The "ch" sound is gutteral, not the English "ch" as in "cheese.") Pronounced in Yiddish/English (Yinglish!) "Sukkus" with the accent on "su" and "Simchus Toy-rah" with the accent on "chus" and "toy." Sometimes spelled Succot or Succoth (the "t" at the end of Hebrew words is sometimes transliterated as th, like in the word "mitzvoth.")

WHY IS IT?
The children of Israel dwelt in booths in the wilderness after the Exodus. At the same time, they celebrated the "festival of the ingathering" of the harvest. Sukkot is the holiday which brings together those two themes, one historical and one agricutural. Sukkot concludes (and thus the "high holy day cycle") on the eighth day with Shemini Atzeret, then Simchat Torah when we end the cycle of Torah readings for the year with the last portion in Deuteronomy and begin again with the first portion of Genesis.

WHEN IS IT?
The fifteenth of the Hebrew monthTishre. In Israel and abroad in Orthodox and Conservative congregations eight days are observed; the first two and last two are festivals with no work permitted. In Israel Shemini Atzeret and Simchat Torah are celebrated together on the same day. Most Reform and Reconstructionist congregations observe seven days with the first and last being a festival with no work.

WHERE IS IT FROM?
Sukkot is a Biblical fesrtival. Leviticus 23:42 commands us to "dwell in booths" for seven days to remember the booths we built and lived in on the journey from Egypt to the Promised Land of Israel. Numbers 29:35 describes Shemini Atzeret, the last day, as a "solemn asembly."

WHAT DO WE DO?
Many families build a temporary Sukkah (booth) in their backyard, on their roof or on their porch. They eat (and some sleep) in the Sukkah for the entire 7/8 days. This reminds us of the temporary nature of our lives and makes us grateful for our safe, solid homes, as the Sukkah may not have a roof but needs to have an open top where one can see the sky. Sukkot also helps connect us to the earth and our responsibility to protect it. Many synagogues are decorated with symbols of the harvest like pumpkins and gourds. A lulav (green fronds made up of myrtle, palm and willow leaves) and an etrog (a special citrus fruit that looks like a lemon) are waved in a ritual pattern each morning except Shabbat. On Simchat Torah the last portion and first portion of the Torah are read with special honours going to the person chosen to bless those portions. Children are given sweets and flags to march around the sanctuary, and the Torah scrolls are paraded for seven circuits of joyous dancing and singing. A memorial candle is lit on the evening of the last night and special memorial prayers ("yizkor") are said in the synagogue on the last day.

WHAT DO WE EAT?
Since Sukkot celebrates the autumn harvest (similar to the Thanksgiving holiday which is not coincidental), holiday menus may include dishes like stuffed vegetables, to represent a cornucopia of bounty. There is an Ashkenazic tradition of serving kreplach (stuffed pastries like perogies) or stuffed cabbage and a Sephardic tradition of serving couscous, with an accompanying variety of vegetables and toppings.

WHAT DO WE SAY?
"Chag Sameach" (prounounced chag sah-may-ach) meaning "happy holiday" used the first and last days; some people say "mo-ah-dim l'simcha" (" a joyous festival") in the intermediate days, whose response is "chagim u'z'manim l'sasson."


Want to build your own Sukkah this year? If you build it, they will come! Check out these resources:
1. My Jewish Learning
2. Yahoo Voices
Blessings for the Sukkah
Blessing for Dwelling in the Sukkah
It is a mitzvah to celebrate in the sukkah. While the Torah instructs us to live in the sukkah for seven days, but many choose to only have meals in the sukkah. When eating or reciting kiddush in the sukkah, recite this blessing:

Baruch atah Adonai, Eloheinu Melech haolam, asher kid'shanu b'mitzvotav v'tzivanu leisheiv basukkah.
Our praise to You, Eternal our God, Sovereign of all: You hallow us with Your mitzvot and command us to dwell in the sukkah.

Blessing for the Lulav
The lulav is held up in the right hand, and the etrog is held pitom end (pointy side) down in the left hand. Facing east, recite the blessing. Then turn the etrog up and shake the entire bundle three times in each of six directions: straight ahead, right, back, left, up, and down.

Baruch atah Adonai, Eloheinu Melech haolam, asher kid'shanu b'mitzvotav v'tzivanu al n'tilat lulav.
Our praise to You, Eternal our God, Sovereign of all: whose mitzvot teaches us holiness and who instructs us to take up the lulav .

Shehecheyanu
The first time you wave the lulav each year, recite the blessing marking a special occasion:


Baruch atah Adonai, Eloheinu Melech haolam, shehechehyanu, v'kiy'manu, v'higianu laz'man hazeh.
Our praise to You, Eternal our God, Sovereign of all: for giving us life, sustaining us, and enabling us to reach this season.
Vegetarian Couscous
This Moroccan-inspired dish is a perfect way to reap the bounty of wonderful vegetables available during the Sukkot season. It also makes a beautiful, edible centerpiece for your dinner table in the sukkah.
From Tina D. Wasserman in Reform Judaism Magazine.

2 Tablespoons extra virgin olive oil

2 large garlic cloves, finely chopped

1 medium onion, diced into 1/2-inch pieces

2 carrots, sliced into 1/4-inch rounds

1 8-ounce can of tomato sauce

3/4 cup dark raisins

1/2 teaspoon salt or to taste

1 1/2 teaspoons ground cumin

2 1/2 cups of vegetable stock, divided use

2 small zucchini, sliced into 1/4-inch rounds

1 small (1 pound) eggplant, sliced into 1-inch cubes

2 yellow crookneck squash, sliced into 1/4-inch rounds, or 1 cup asparagus cut into 1-inch lengths

4 ounces of mushrooms (any type), caps cut into quarters (portabellas cut into 1-inch cubes)

1 15-ounce can of chickpeas, drained

4 Tablespoons butter or margarine

1 cup fine couscous

1 or more Tablespoons of finely minced parsley for garnish
Heat a large frying pan or 4-quart saucepan for 30 seconds, add the olive oil, and heat for 15 seconds. Sauté the garlic and onion until lightly golden. Do not allow the garlic to brown.

Add the carrots, tomato sauce, raisins, salt, cumin, and 1 cup of the stock. Cover and simmer for 10 minutes or until the carrots are crisp tender--thoroughly cooked but firm and not mushy.

Add the zucchini and the eggplant and cook for 10 minutes. Spoon in the crookneck squash or asparagus pieces, mushrooms, and chickpeas and stir to combine. Cook for an additional 10 minutes until all the vegetables are tender.

In a large saucepan, heat the remaining 1 1/2 cups of stock along with the butter or margarine. Add the couscous. Cover, remove from the heat, and allow the pan to sit for 5 minutes.

To serve, spoon the couscous into the center of a large rimmed dish, and surround with the cooked vegetables. Pour the sauce evenly over all, and sprinkle with a little parsley for garnish. Serves 4 as a main dish or 8 as a side.
Tina's Tidbits:

Always heat your sauté pan before adding oil. This prevents the oil from adhering to the pan and the food from sticking to the oil.

When cooking vegetables, always add in first those that require more cooking time.

The fins of portabella mushrooms will blacken foods. Before adding a portabella to any recipe, scrape the fins off its underside with a spoon and use only the remaining mushroom cap.

Tina D. Wasserman, a member of Temple Emanu-El in Dallas, Texas, has been teaching at her own cooking school for more than thirty years and writes a kosher cooking newsletter on the Internet. AskTina@urj.org.
Fri, December 8 2023
25 Kislev 5784
City Shul Shabbat Services
Click here for our Shabbat service schedule.
City Shul School
Click here to learn more about our shul's school.
City Shul Family Learning
Click here to see our upcoming family programmes.
City Shul Adult Ed and Adult Programmes
Click here to see our upcoming adult programmes.

Upcoming Events
All Events
Sunday

,

Dec

December

10

,

2023

City Shul Chanukah Party


Sunday, Dec 10th

4:00p

to

6:00p




All ages welcome: Family and toddler activities, adult learning, latkes and donuts, music, candle lighting, AND Simchat Torah in December!

Saturday

,

Jan

January

20

,

2024

Shabbat Special Event - The Song of the Sea, with special musical guest Hava N'ranena! - Saturday, January 20, 2024


Shabbat, Jan 20th

10:00a

to

12:30p




Join us for a music-filled Shabbat morning. The event begins at 10 am, with coffee and a quiet shmooze, as the band sets up. Hava N'ranena - whose music is inspired by Nava Tehila in Jerusalem - will begin performing at 10:30 am. The event concludes with Kaddish, followed by brunch.

Saturday

,

Jan

January

20

,

2024

Israel Engagement presents "The Middle East Conflict through Maps"


Motzei Shabbat, Jan 20th

7:00p

to

9:00p




Please join us for a Havdallah service, followed by a presentation from Rabbi Englander. Using maps of Israel, past and present, Rabbi Englander will highlight the dual narratives, Israeli and Palestinian, and bring perspective and analysis to the heat and hate that surrounds us. Members only, registration required.

In Seven Days, Sunday May 5, 2024, 7 PM; Talkback with Rabbi Goldstein for this performance only


Sunday, May 5th

7:00p

to

9:00p




Through tears and laughter, In Seven Days explores what it means to live with grace and grapples with how we say goodbye to the people we love most. Rabbi Elyse Goldstein will lead a talkback presentation at the conclusion of the play.
Fri, December 8 2023 25 Kislev 5784